One of the Best Body Massage Center in Dehradun: Honey Bee Spa
Honey Bee Spa is one of the luxurious and best body massage center in Dehradun, Uttarakhand. Get rid of your fatigue, stress and the entire workload you are keeping with you. Visit Honey Bee Spa to be full of energy, relaxation and the calmness you ever dreamed. Along with all that endow a touch of beauty to you at our full body massage parlour in Dehradun. Honey Bee Spa & Salon is not just a body massage center as others but you will leave all your tiredness here as we care for the wellbeing of our visitors. With providing the relaxation to your body, we devise to bestow the inner peace by the splendid way of the spa and endeavors to give you a stress-free environment.
Welcome to Honey Bee Spa to get world-class Best Spa in Dehradun
By offering best spa in Dehradun, Uttarakhand, Honey Bee Spa & Salon strive to give an experience of natural beauty to your eyes, as the interior and the entire design of Honey Bee Spa is influenced by the foreign architecture which comprises a neat and clean atmosphere, lavish green inner climate and an alluring plantation everywhere. An extreme gathering of the decorative components and elements makes us best in full body spa in Dehradun. An enthralling theme of the parlor confers an unforgettable experience which will compel our clients to visit us again and again. We are fully concerned about the complete relaxation of our visitor who is bearing an immense stress of chores.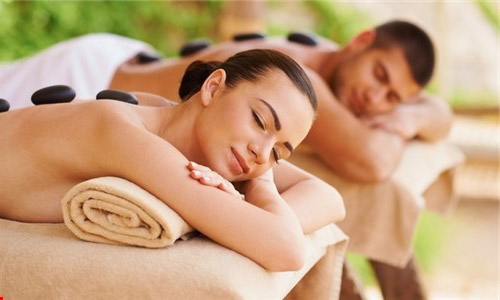 Best Body Massage Parlour in Dehradun: A Touch of Art & Culture
A silent but peaceful ambiance with the relaxing mosaic made us the best body massage parlor in Dehradun, Uttarakhand. Honey Bee Spa has separate massage rooms for performing the body massage tasks. Each room is embellished by eye-catching paintings and lightings which bestows you a joyful feeling of wellness. If you are in a search for comfort and peace then visit us once and give a beautiful end to your drive. At our full body massage parlor in Dehradun, we have strenuously focused on the massage rooms to be equipped with steam bath, large size hydrotherapy tubs, water with all temperature and body jests. The combination of all the mentioned things will end up the body massage with a beautiful experience. A light and calm music enhance the good mood as we have a high tech sound system which facilitates our visitors to provide the music of their choice.
Full Body Spa in Dehradun: Offered by Full Body Massage Parlour in Dehradun
At Honey Bee Spa (full body massage parlour in Dehradun), you will be served with a wide room which is specially designed to offer the full body spa in Dehradun. Our body massage therapists are qualified from the world's best massage and spa salon to provide several relaxing massage therapies such as Vinotherapy, Rose salt bath, and romantic spa therapy. The art and a bunch of beautiful pictures are installed on every wall at our place to promote the brain relaxing moments of the visitor. Visit and experience the world-class body massage center and spa salon in Dehradun.